Wihinipa Hinsa Lodge #113
Bay Area Council #574, Galveston, TX

News
+ JANUARY LEC: The January LEC will take place at 7:30 p.m. on January 22, 2015, at Alvin Church of Christ, 1325 S. Johnson St., Alvin, TX 77511. Meeting agdena items include: Scouting in the Gardens, Camp K 60th/OA 100th, Ceremonies Teams and the Spring Ordeal. Please contact Bill Myers at bnjnb@comcast.net for more information.
+ OA EARLY BIRD SPECIAL: The Wihinipa Hinsa Lodge Executive Council is offering at great package deal for all of the 2015 events.You'll get free admission to these great Order of the Arrow events including the Spring & Winter Ordeals, the OA Fellowship, the Lodge Banquet and all 2015 OA dues for just $80, plus an exclusive OA Early Bird patch! Sign up today to save!
+ Check out the History of the OA Sashes here!
+ Read all about the happenings in the OA here.
+ Centennial Update: New Vigil Honor cards have been released to celebrate the OA 100th Anniversary. Get yours HERE.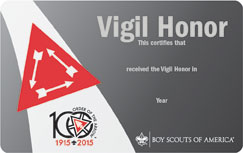 + Centennial Update: Get your 2015 NOAC promotional patch HERE.
Welcome
The Order of the Arrow (OA) is the National Honor Society of the Boy Scouts of America (BSA). The basic unit of the OA is the lodge, which is chartered to a local BSA council. There are more than 300 lodges in the BSA. We are the Wihinipa Hinsa Lodge #113, affliated with the Bay Area Council #574. The OA uses Native American style traditions and ceremonies to bestow recognition on Scouts selected by their peers as those that best exemplify the ideals of Scouting. Arrowmen, as they are called, wear a sash over their right shoulder to signify membership in the Order of the Arrow.
Take some time to explore these pages then make sure you visit the National Order of the Arrow Jumpstart site for new Arrowmen. It will help you to understand more about the OA.
Wihinipa Hinsa song
Contact
For more information about Wihinipa Hinsa Lodge #113, please see our Officers page or contact Dianna Marsh at dianna.marsh@scouting.org.