Galveston Nautical Adventures 2018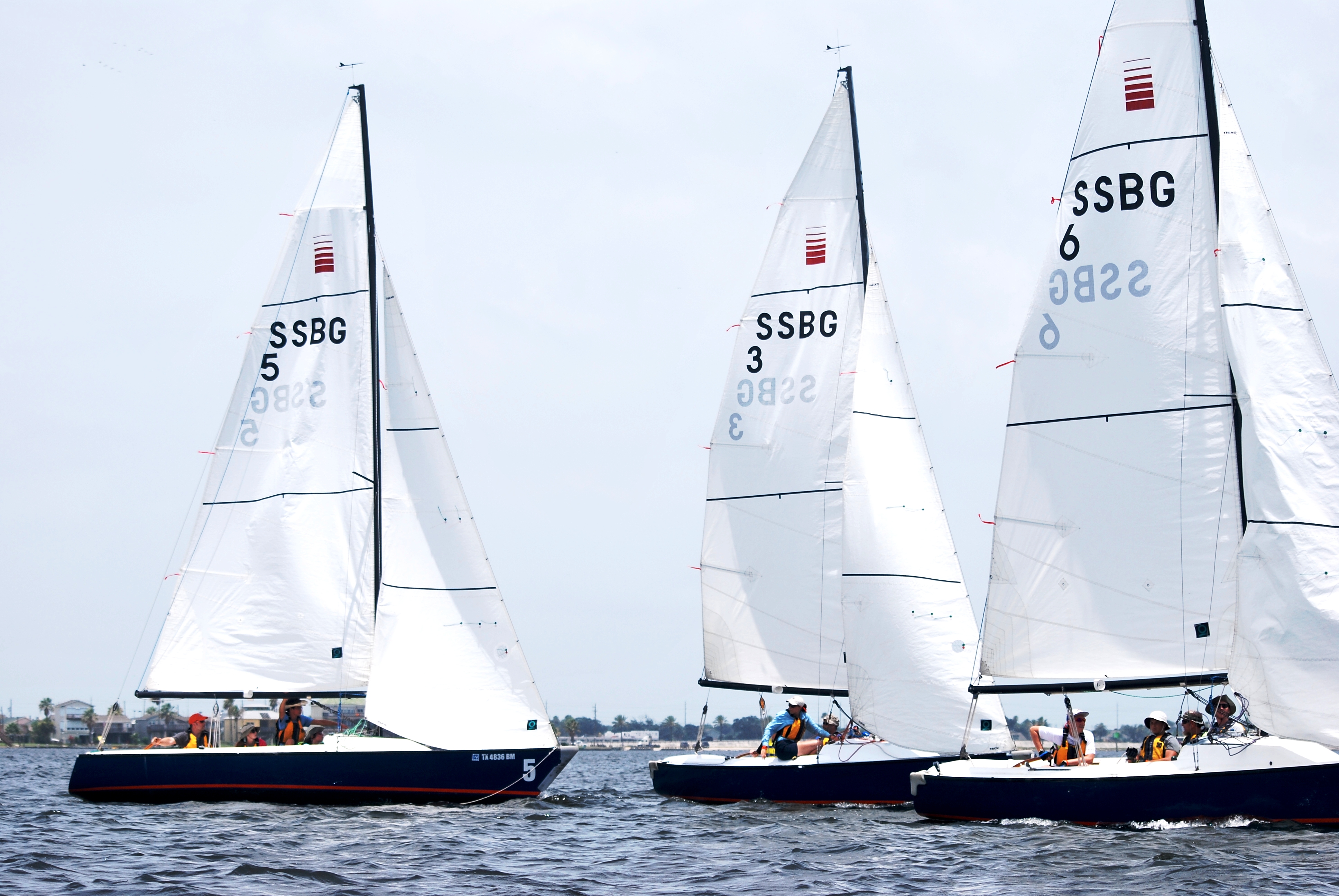 Experience Summer on the water
Sail boats, race against other crews, kayak the bayou, and take in a scavenger hunt and festive luau, all while learning the latest Sea Scout techniques. Adventure waits for no one...get on board.
Day 1
I had been to Galveston so many times — thought I had done it all… boy was I in for a big surprise!
We arrived and went straight to our swimming and lifesaving skills session. We got our lifejacket for the week. The most fun was the contest between crews throwing heaving lines and ring buoy toss! After a great dinner we did Sailing 101, learning the basics of boat language (starboard, port, bow, stern), parts of sailboats and how sails work on a boat. During our down time we practiced tying knots using iPads® with knot animation.
Day 2
After a great breakfast my crew hit the ground with Capt. Mike, first with land based sailing and a safety briefing. Then we rigged our 23' Sonar Keelboat, each of us took turns at the "helm", handling the sail sheets (those ropes tied to the sails) - learning that ropes on a boat are called lines.
After a break for lunch, we raced other crews… awesome! Then on to dinner and those who finished early worked on knots again with the iPads.Then we headed out to the docks to learn to sail the collegiate racing dinghies, called Flying Juniors or FJ's. But, first we had to show we could capsize our boat and then right it before we could head out. After all the crews finished, we took down the sails rinsed them and hung them to dry.
Day 3
Kayaking Day! After some land based instruction and practice in the water in front of Sea Base we paddled to a bird sanctuary. It took about 3 hours to paddle there but WOW! When we got there we learned about all sorts of bird and wildlife that we saw in the wetlands and took pictures of them with our iPads. After lunch on the island we paddled back, just in time for a great dinner. After dinner we took the FJ's out again, really learning how to sail these two-man boats. It was a lot of fun, some of us capsized, but since we had been trained, we knew what to do.
Day 4
Big Boat Sail - our crews sailed out on two 40' schooners - we all learned how to handle the lines, and took turns out the helm. We sailed out to Galveston Bay and had lunch while under way, seeing lots of Dolphins, pelicans, and sea gulls. It is so quiet when you are under sail - all you can hear is the wind blowing through the sails and rigging. After dinner — RACE TIME! By now, we had a good handle on the FJ's – racing them out in Offats Bayou, but we couldn't have done it without our great US Sailing® certified instructors.
Day 5
Crazy Day - we had a scavenger hunt… of sorts, using all of the different boats we had learned on all week - the FJ's, the Sonars, and the Kayaks! The winner was awarded at the closing Luau party night. Each crew put on a skit about their experience at the Luau. The funniest had to be the Staff skit! We had an Interfaith Service that night and then later watched a dazzling fireworks display across the bayou at Moody Gardens. A couple of crews headed home that night, but we were too tired so we spent one last great night.
Day 6
We got up early, cleaned up, grabbed a quick breakfast and loaded our gear! We were home in less than an hour. What amazing week, and so close to home. Sea Scout Base Galveston is a real Treasure.
Get on board
Remember 4 youth + 2 adults equals a Crew
Adventure A

Program Date:
June 18-23, 2018

Pricing: $4,050 per Crew. A $500 non refundable deposit that is applied to the overall fee is required at the time of registration.

Registration ends: April 1, 2018 May 1, 2018

Adventure B

Program Date:
June 25-30, 2018

Pricing: $4,050 per Crew. A $500 non refundable deposit that is applied to the overall fee is required at the time of registration.

Registration ends: April 1, 2018 May 1, 2018
REGISTRATION REQUIREMENTS
1. All attendees must read the 2018 Boarding Manual
2. All attendees must bring a signed SSBG Release Form
3. When registering, ENTER ONLY ONE ATTENDING ADULT/NEW PARTICIPANT. This will represent your crew coordinating contact.
4. $500 deposit required when registering.
AGE MINIMUM: Must be 13 years old.
PLACE: Sea Star Base Galveston, 7509 Broadway, Galveston, TX, 77550
CONTACT: Bay Area Council at (409) 744-5206
PRICING: $4,050 per Crew, Crew of six. A $500 non refundable deposit that is applied to the overall fee is required at the time of registration. Full payment of the remaining $3,550 is due by the close of business on April 1, 2018. All balances may be submitted via the Doubleknot Registration system (you will receive an email reminder), a check made out to the Bay Area Council, 3020 53rd Street, Galveston, TX 77551, or by credit card by calling the Bay Area Council Service Center at 409-744-5206.