Fast Cars Camp-O-Ree
hosted by Coastal & Cradle of Texas Districts 2017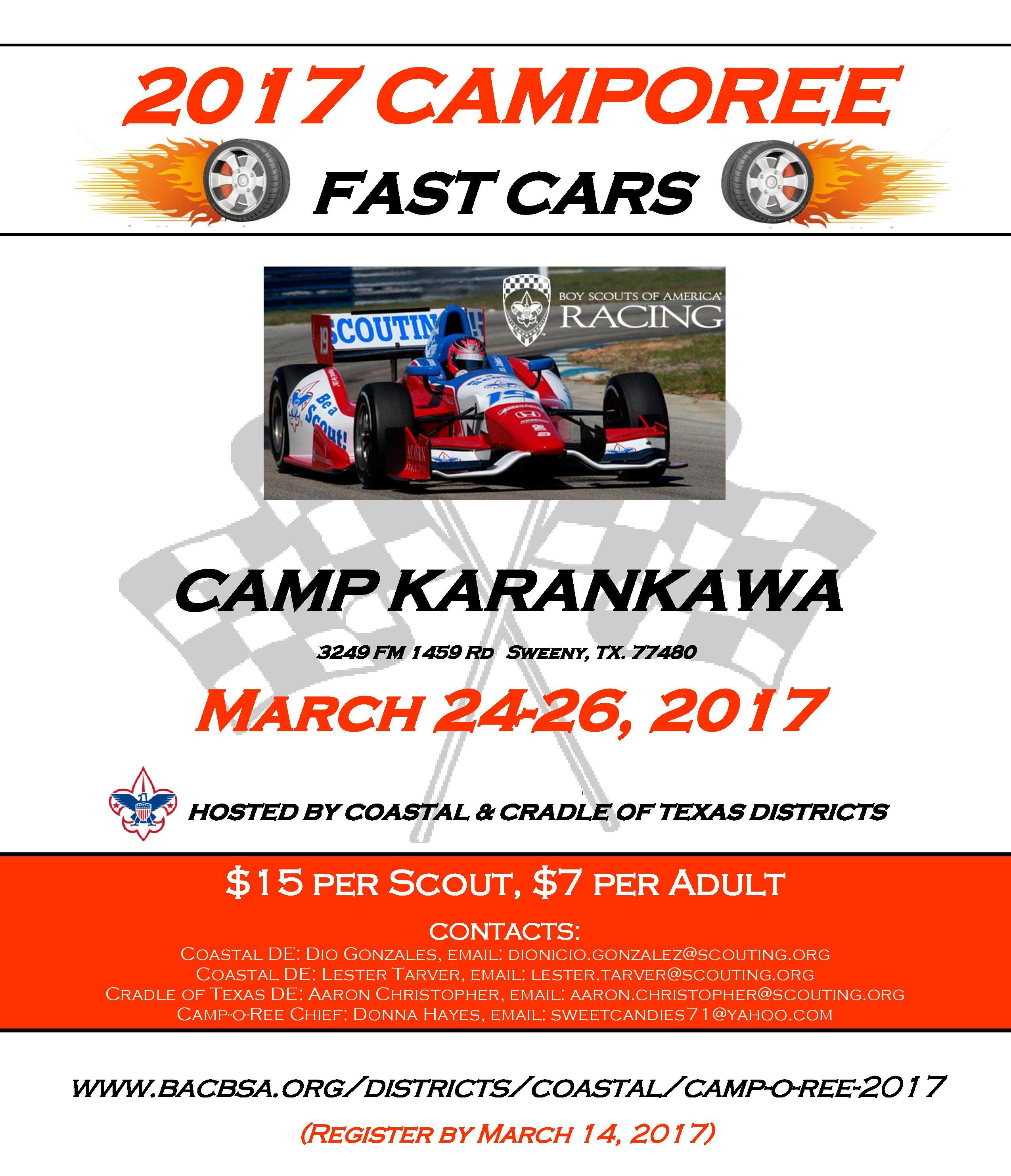 Ready. Set. Go!
We've got derby, shooting, cooking, campsite competitions and much, much more!
Registration
DATE: March 24-26, 2017
TIME: Check in between 5-9 p.m. Friday, check-out Sunday by 10 a.m.
PLACE: Camp Karankawa, 3249 FM 1459 Rd, Sweeny, TX 77480
COST: $15 per Boy Scout; $7 per adult
CONTACT:
Coastal DE's:
Dio Gonzalez at dionicio.gonzalez@scouting.org
Lester Tarver at lester.tarver@scouting.org
Cradle of Texas DE:
Aaron Christopher at aaron.christopher@scouting.org
Camp-O-Ree Chief:
Dona Hayes at sweetcandies71@yahoo.com
REGISTER BY: March 23, 2017
REGISTER HERE
What Is a Camporee?
A camporee is many things—camping fun for youth, the thumping of hundreds of feet on the way to an evening campire, and the blue smoke from fires cooking stew or ham and eggs. It's the patter of rain on many tents at night. It's the ripple of wind-blown flags in the morning sun. It's catching the idea of teamwork in a patrol. It's learning to carry out an order to help the team succeed. Enjoy camping the Boy Scout way with nature hikes, spirit campfires, archery, BB gun shoots, patrol skill competitions and much, much more! Registration requires you to register as a Troop. Sign up today!
2018
April 6-8, 2018