Fire Status - Camp Karankawa
Find out the current ground fire alert status for Camp Karankawa. If you are not sure, always ask to be on the safe side. Contact Camp Karankawa at 979-345-3964.
The camp fire danger rating system mirrors the National Fire Danger Rating System (NFDRS). This system allows land agencies to estimate fire danger for any given area.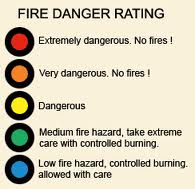 Knowledge of these levels can help campers and visitors make decisions about campfires to help prevent fire disaters. Crews working in the camp may consider extra precautions (like having a lookout) when using equipment that might produce sparks. In some cases, the Camp Ranger may restrict or ban certain activites based on fire danger levels. In addition, the Camp Ranger may choose to temporarily close Camp Karankawa if fire levels are severe enough.
The goal is to help the campers and the public adapt their behavior and obey restrictions to increase safety.