Awards
Would you like to honor an Arrowmen for their outstanding service to the lodge? Award nomination forms can be found here.
OA Triple Crown Award
(New)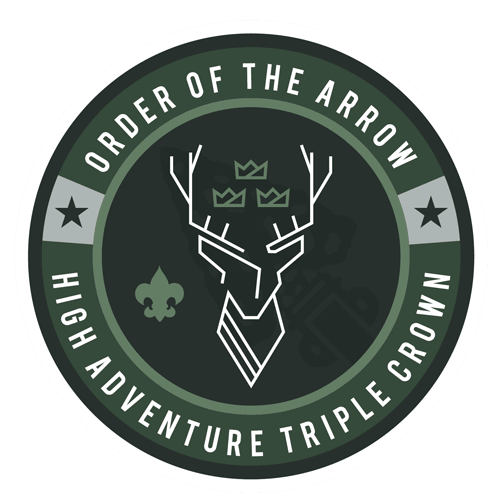 The OA Triple Crown has always recognized outstanding outdoorsmen who take the initiative to attend not one, but three high adventure bases through the Order of the Arrow's programs. Members seeking to achieve the new OA Triple Crown Award can complete any three of the five OAHA programs as long as they do so at three separate bases. These Arrowmen are also expected to give a presentation about their experiences at a lodge or section event encouraging others to participate. Afterwards, they should submit an OA Triple Crown Application which will be made available later this year. After verifying attendance, the Arrowmen will receive a patch set and a certificate signed by the national officers recognizing this accomplishment. The patch set will consist of a universal center patch surrounded by three "rockers" to signify the three programs completed. For more information, please click here.
Founder's Award
The Founder's Award was created by the National Order of the Arrow to honor and recognize Lodge Arrowmen who have given outstanding service to the lodge. The award is reserved for an Arrowman who demonstrates to fellow Arrowmen that he or she memorializes in his or her everyday life the spirit achievement as described by founder E. Urner Goodman. The award is a handsome bronze medallion bearing the likeness of E. Urner Goodman and Carroll A. Edson, with wooden base and brass plate suitable for engraving. The award is suitable for display at home, or the office. Also available is the Founder's Award arrow ribbon, similar to the universal arrow ribbon, except that it has a gold colored arrow suspended from the red ribbon. Lodges may petition the National Order of the Arrow Committee to present up to two awards annually, based on Lodge membership. If the Lodge presents more than one award, one must be to a youth under the age of 21.
| | | |
| --- | --- | --- |
| YEAR | YOUTH NAME | ADULT NAME |
| 1980 | Mark J. Fridye | Mr. David C. Pressler |
| 1981 | Russell L. Sparks | Mr. Harro R. Kloss |
| 1982 | N/A | Mr. William D. "Bill" Chamberlain |
| 1983 | N/A | Mr. M. O. Knapp |
| 1984 | N/A | N/A |
| 1985 | Kenny R. Nau | N/A |
| 1986 | N/A | N/A |
| 1987 | David A. Bang | Mr. Raymond Morgan |
| 1988 | N/A | Mr. Charles F. Chipman, Sr. |
| 1989 | N/A | N/A |
| 1990 | William K. "Trey" Otte, III | Mr. William K. "Bill" Otte, Jr. |
| 1991 | Daryl Lawrence | Mr. Robert C. "Bob" Wainscott |
| 1992 | N/A | Mr. Don White |
| 1993 | Jeff Talasek | Mr. Michael "Mike" Griffin |
| 1994 | Gene Moeller | Mr. Richard Talasek |
| 1995 | Steven Kocian | Mr. Donald Klyng, Sr. |
| 1996 | Michael Rogillio | Mr. Charles "Charlie" Clements |
| 1997 | Jeremy Conn | Mr. James M. "Jimmy" Geesing |
| 1998 | John Moeller | Mr. John Kocian |
| 1999 | Russell Tassin | Mr. Charles "Charlie" Conn |
| 2000 | N/A | N/A |
| 2001 | N/A | Mr. John Stone |
| 2002 | N/A | Mr. Scott Dick |
| 2003 | Chris Stephens | Ms. Sandy Price |
| 2004 | Tristan Harris | Trevor Harris |
| 2005 | Chris Bishop | |
Chief's Award
The Chief's Award was created to recognize Arrowmen throughout the year for their hard work and service to the Lodge through their dedication to a specific task. At the close of each year, the Chief may select individuals whose work extended above and beyond the call of duty, and who truly live up to the high ideals set for all members of the Order. The main recipients as chosen at the end of the year are awarded a plaque to recognize both their outstanding service and their accomplishments. Because the award is independently selected, awarded, and funded by the chief, he may present as many as he feels appropriate, within reason. No Arrowmen may receive the award more than once from the same Chief, and no awards need to be presented should the Chief not see fit to do so.
| | | | |
| --- | --- | --- | --- |
| YEAR | CHIEF | YOUTH | ADULT |
| 1984 | Lance Fehrle | Michael Vawters | Mr. Guy Doane |
| 1985 | Scott Dick | John Beltz | Mr. Norman Wood |
| 1986 | Michael Buckner | Johnathan White | Mr. Edward Rodriguez |
| 1987 | John Garrison | Mavin Pair | Mr. Michael "Mike" Griffin |
| 1988 | William K. "Trey" Otte, III | Daryl Lawernce | Mr. Donald Klyng, Sr. |
| 1989 | Marvin Pair | Daryl Lawernce | Mr. Dennis Schoening |
| 1990 | Jim Erwin | Steven Esch | Mr. Richard Talasek |
| 1991 | Shawn Wainscott | Tony Reeves | Mr. Dennis Schoening |
| 1992 | Travis Vance | Jason Harris | Mr. Richard Talasek |
| 1993 | Jeff Talasek | Gene Moeller | Mr. John Harris |
| 1994 | Jeff Talasek | Nate Rosen | Mr. Donald Klyng, Sr. |
| 1995 | Mike Ware | Michael Rogillio | Mr. James M. "Jimmy" Geesing |
| 1996 | Gene Moeller | Steven Kocian | Mrs. Sandra Moeller |
| 1997 | Steven Kocian | Stephen Graschel | Mr. Rob Alexander |
| 1998 | John Moeller | Kevin Grifford | Mr. James M. "Jimmy" Geesing |
| 1999 | Jeremy Conn | Levi Rosen | Mr. Charles "Charlie" Clements |
| 2000 | Russell Tassin | Chance Browning | Mr. Les Long |
| 2001 | Chase Townsend | Travis Wright | Mr. Norman Trainer |
| 2002 | Chase Townsend | Daniel Hall | Mr. John Stone |
| 2003 | Chase Townsend | Aaron Patlan | Mr. Mike Ware |
| 2004 | Charlie Torres | | |
| 2005 | Tristan Harris | | |
| 2006 | Chris Torres | | |
| 2007 | Chris Torres | | |
Cliff Alexander Chapter Service Award
YEAR

CHAPTER

CHAPTER CHIEF

CHAPTER ADVISER

1985

Tatonka

Johnathan White

Mr. Norman Wood

1986

Tatonka

Richard Wood

Mr. Norman Wood

1987

Weyatunit

Tim Armstrong

Mr. Charles "Charlie" Clements

1988

Weyatunit

Chris Marshall

Mr. Charles "Charlie" Clements

1989

Weyatunit

Adam Clements

Mr. John Venzke

1990

Weyatunit

Thad Pratt

Mr. John Venzke

1991

Weyatunit

Jason Harris

Mr. Charles "Charlie" Clements

1992

Weyatunit

Steve Kocian

Mr. Charles "Charlie" Clements

1993

Japeechen

Rick Drenner

Mr. Frank Williams

1994

Japeechen

Bryan Birmingham

Mr. Frank Williams

1995

Cincajou

Chris Hiel

Mr. Richard Moeller

1996

Weyatunit

Bradley Blankenship

Mr. John Kocian

1997

Weyatunit

Robert Shadle

Mr. Merritt Lockwood

1998

Weyatunit

Jeremy Conn

Mr. Merritt Lockwood

1999

Weyatunit

Eric Barhan

Mr. Dave Barhan

2000

Alahikan

2001

Alahikan

Cris Stephens

Mrs. Alma Tassin

2002

Alahikan
Weyatunit

Cris Stephens
Aaron Patlan

Mrs. Alma Tassin
Mr. Norman Trainer

2003

Do Pah Ke Sto Wa-We-Ski

Aaron Patlan

Mr. Leslie Long

2004

2005

2006
Charles Chipman Service Award
| | | |
| --- | --- | --- |
| YEAR | YOUTH | ADULT |
| 1992 | Raul Rivera | Mr. Orville Anderson & Mr. Ellis Perthuis |
| 1993 | Bryan Birmingham | Mr. Richard Talasek |
| 1994 | Bryan Birmingham | Mr. James M. Geesing & Mr. John Kocian |
| 1995 | Mike Ware | Mr. William "Bill" Ware |
| 1996 | Jeremy Conn | Mr. Dave Barhan |
| 1997 | Jeremy Conn | Mr. John Harris |
| 1998 | Eric Barhan | Mr. Charles "Charlie" Conn |
| 1999 | Blake Lockwood | Mr. Donald Klyng, Sr. |
| 2000 | Chase Townsend | Mr. Tom "Tommy" Dion |
| 2001 | Cris Stephens | Mr. Danny Carson |
| 2002 | Edgar P. Lee | Mr. Danny Carson |
| 2003 | Chris Bishop | Mr. Trevor Harris |
| 2004 | | |
| 2005 | | |
| 2006 | | |
| 2008 | | |