Virtual Adventures
In an effort to help support Scouts and families as our communities suspend school and other group programs in response to COVID-19, the Bay Area Council will be offering programs ONLINE. New classes & events will be added as volunteers become available.
Once registered, Scouts will receive a link to log on. Each class/event will be provided by a registered Merit Badge Counselor. Scouts may have "homework" to complete.
For more classes, please visit www.bacbsa.org/online
CONTACT: Charlie Tinsley at charlie.tinsley@scouting.org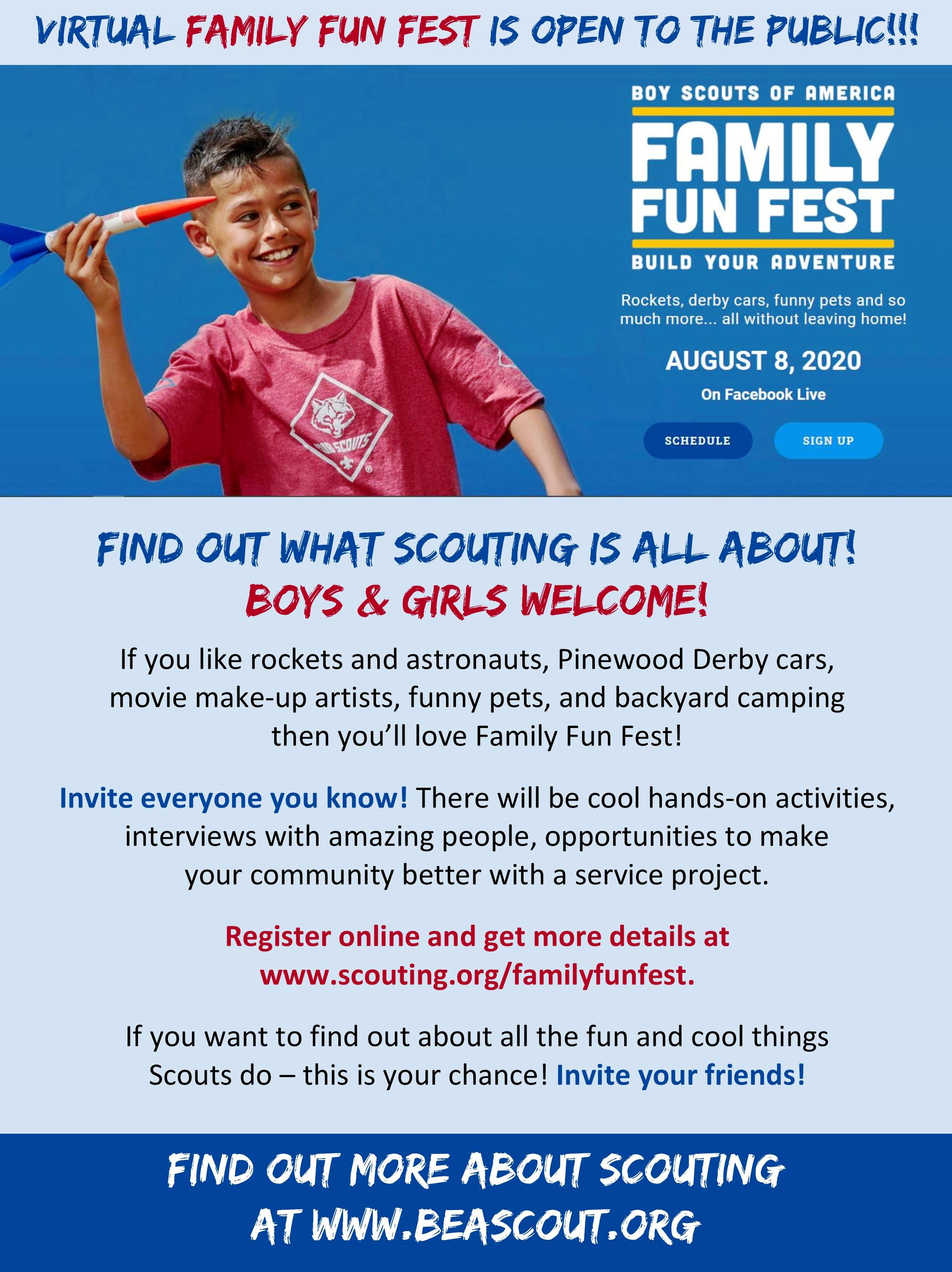 Family Fun Fest
If you like funny pets, rockets and astronauts, Pinewood Derby cars, movie make-up artists and backyard camping then you'll love Family Fun Fest! It's outdoor adventure you can have online!

This very special online-only event is just for families like yours! It is open to the public! There will be cool hands-on activities, interviews with amazing people, opportunities to make your community better with a service project.

And you can join in on the fun with activities you can do at home – like building your own pinewood derby car! We'll post lists of items you'll need here and on Facebook so you can build your own adventure!

If you're a Cub Scout you'll love it! If you want to find out about all the fun and cool things Scouts do – this is your chance! It's always more fun with friends – so Invite your friends to join you online for Family Fun Fest!
This is a National Boy Scouts of America sponsored event. Open to the public.
DATE: Saturday, August 8, 2020
COST: Complimentary online event.
WHO CAN ATTEND: Everyone, even non-Scouts! This is for children of all ages!
REGISTER & SHARE THE EVENT ONLINE: https://www.scouting.org/familyfunfest/
More Adventures...
Cub Scouts

BACKYARD CAMP-OUT WITH DUTCH-OVEN CHAMPION
CARLOS ARMINTOR & HIS DAUGHTER

Watch the video here (Must log in to Facebook)

LIVE HIKE WITH THE CAMP RANGER, DK HOPWOOD

Watch the video here - Part 1 (Must log in to Facebook)

Watch the video here - Part 2 (Must log in to Facebook)

HIGHLIGHTS FROM THE NATIONAL CAMP-IN

How To Setup Online Conferencing for Virtual Meetings
How to continue Scouting from home
How to perform good turns from home
What Educators Should Know

30-day Challenge for Lions
30-day Challenge for Tigers
30-day Challenge for Wolves
30-day Challenge for Bears
30-day Challenge for Webelos

PALA Scavenger Hunt for Lions
PALA Scavenger Hunt for Tigers
PALA Scavenger for Wolves
PALA Scavenger for Bears
PALA Scavenger for Webelos

Scouts BSA

ASTRONOMY MERIT BADGE - 3-5 p.m., May 28

VETERINARY MERIT BADGE CLASS - 1-3 p.m., May 13

GENEALOGY MERIT BADGE - 5 p.m., April 3

DISABILITIES AWARENESS MERIT BADGE - 1 p.m., April 15

DISABILITIES AWARENESS MERIT BADGE - 1 p.m., April 22

WHAT TO HAVE HANDY:
- Class link will be emailed.
- Merit Badge Worksheet will be emailed to participants.
- Merit Badge Blue Card will be electronically signed after course completion online.
- Scouts must have a web camera to participate.
- During registration, we will ask parents if they would like to help us by being online while their Scout takes the merit badge class.

FOR CONNECTION ISSUES OR QUESTIONS:
aaron.christopher@scouting.org

30-day Challenge for Scouts
30-day Challenge for Tenderfoot
30-day Challenge for Second Class
30-day Challenge for First Class
30-day Challenge for Sea Scouts
30-day Challenge for Venturers

Unit Leaders

For Fall recruiting, National will host one-hour webinars that will cover BeAScout.org, online registration, geofencing, Zoom 101, and much more. These are meant to enhance your recruiting efforts. They will cover a variety of resources each unit should be utilizing. In addition, a Unit Facebook Ad Guide can be found online as well.

The council will also send out a Fall Recruitment Plan with tools to help units, including yard sign advertising, social media advertising, and school video ads. For more information, contact Field Director Kelly Meacham at kelly.meacham@scouting.org.

Schedule:

Recordings of past webinars will be available in the

Marketing and Membership Hub

.