Welcome to the Cradle of Texas District (COT) Scouting Page. The COT District includes the Brazosport Area (Clute, Freeport, Jones Creek, Lake Jackson, Oyster Creek, Quintana, Richwood, Surfside) and the West of the Brazos Area (Brazoria, Churchill, Damon, Danciger, East Columbia, Old Ocean, Shady Acres, Sweeny, West Columbia, Wild Peach) communities.
The COT District serves Boy Scouts, Cub Scouts, Venture Crews (co-ed scouting,) two Police Explorer Posts, a Ship and a Team in the Brazosport and West of The Brazos Areas in Texas.
Find us on Instagram!
District contacts
District Chair

Steve Solis

District Commissioner

Paul Chauvel

District Executive

Aaron Christopher

409-750-3657
+ The Cradle of Texas District is always seeking seeking organizations to partner with to create new units and volunteers. If you are interested in volunteering or chartering a unit, please contact the District Executive for more information.
The Schedule of Monthly Meetings can be found at the bottom of the page
Cradle Of Texas District News
The District Pinewood Derby Registration is open, click on the picture:
+ Pack 382 Chartered out of the Boys & Girls Club of Freeport Texas had tons of fun making their Pinewood Derby Cars and enjoyed their first ever Pinewood Derby!
+ Troop 553 in West Columbia Texas had new officers installed and lots of fun with their skits. Outstanding Adult Leaders were also recognized at their Court of Honor.
+ Troop 325 Chartered out of First Methodist Church of Lake Jackson had a Court of Honor with a ton of new leadership and merit badges.
+ If you think Venture Crews don't have any fun, think again!
+ Pack 310 did a good deed by helping clean up the garbage around the building where they hold their Den Meetings.
+ Pack 333 Chartered out of Chaplewood U.M.C. in Lake Jackson had tons of fun and tons of family on hand to enjoy the racing action.
+ Pack 366 & 324 out of Lake Jackson Texas held a joint Pinewood Derby at St. Michael's Catholic Church to great success!
oops! someone forgot to reset the counter!
+ Pack 560 out of Sweeny Texas went all out with their Blue & Gold Celebration! They also had a bunch of Cub Scouts go all out in earning ranks and awards.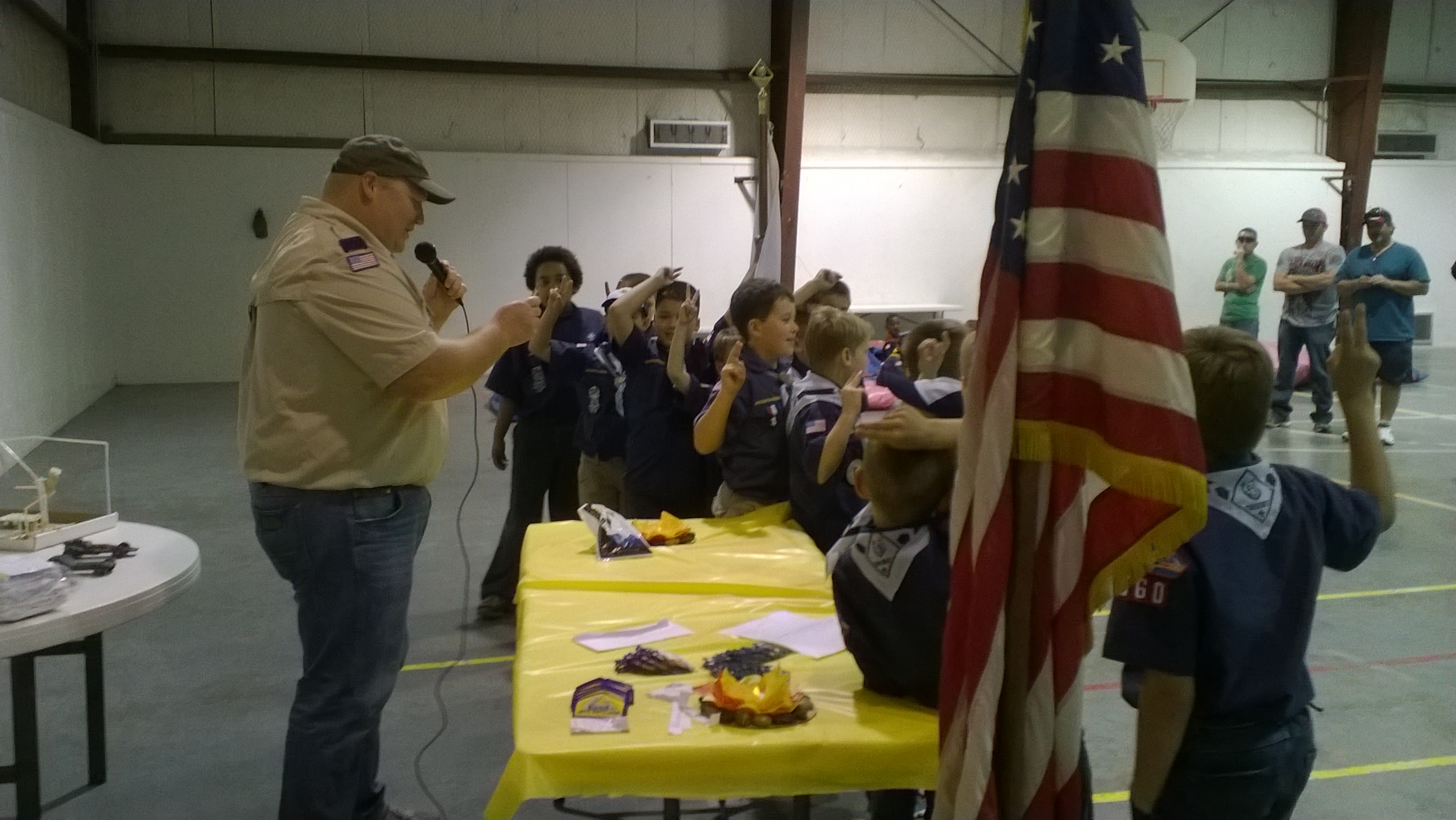 + Pack 503 in Brazoria Texas had such a big Pinewood Derby they had to hold it in a Gym!
+ Scout Sunday was observed by Cub Scouts, Boy Scouts & Venture Crew throughout the Cradle of Texas District.
Troop 328 Chartered out of Chaplewood U.M.C. in Lake Jackson
Pack 324 Chartered out of St. Michael's Catholic Church in Lake Jackson were accompanied by Pack 366
+ Pack 508 had a great turn-out for their Pinewood Derby in Brazoria, Texas. Even the leaders got to race in their own bracket!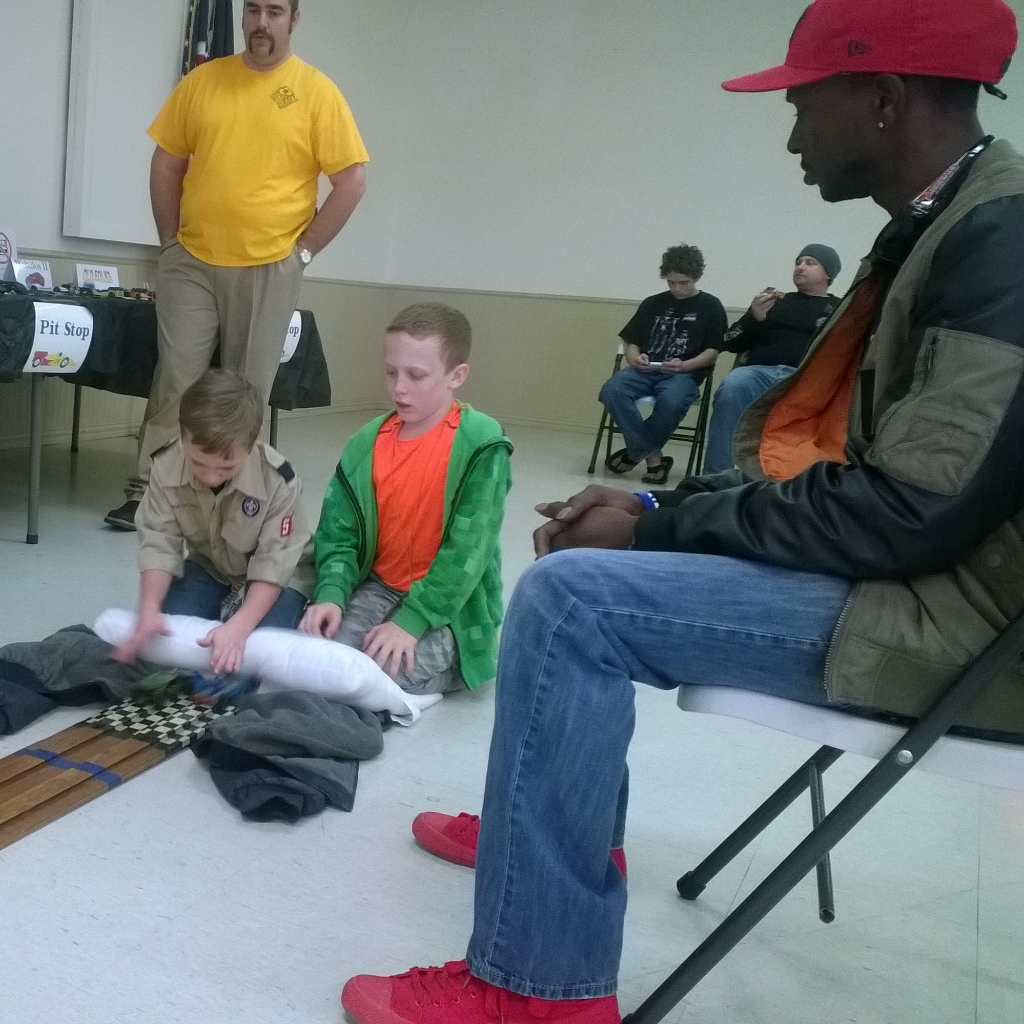 + Troop 394 Held their Court Of Honor with lots of Rank Advancement, Mother Pins, and new leadership positions
+ Pack 336 Cub Scouts Cross Over to their new Boy Scout Unit: Troop 325 in Lake Jackson Texas
+ Pack 560 in Sweeny Texas had a great turn out for their Pinewood Derby this year! You can tell by all the smiling faces, there was a lot of fun to be had.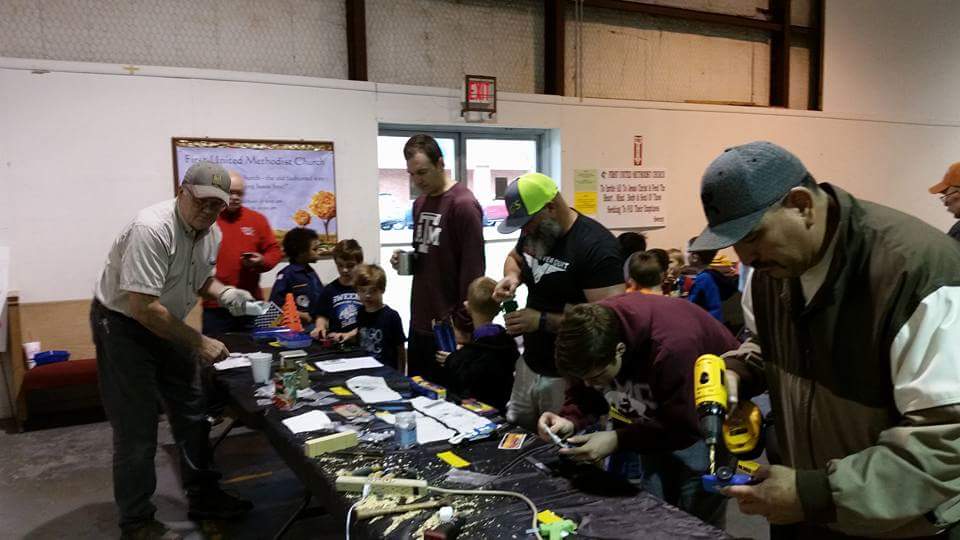 + 2016 Started off with a BANG! Thanks to St. Michael's Catholic Church for once again hosting the Distrct Awards Banquet. A well-attended Cradle of Texas District Banquet saw a lot of deserving volunteers receive recognition for all the time and effort that they have put forth to make the Brazoria County Scouting Movement in 2015 stronger.
Paul Chauvel recieved the District Award of Merit for 2015. The award was presented to him by his Scout Master Carlos Armintor.
The Charter Partner of the Year for 2015 went to The Lake Jackson Ward – Bay City Stake – The Church of Jesus Christ of Latter Day Saints
Family of the Year for 2015 went to the Coopers from Troop 524 in Lake Jackson.
You can see we had a ton of Distinguished Scouters this year!
Lone Star Scouters are some of the best volunteers you could ask for.
+ Congratulations to the newest Senior Patrol Leader & Assistant Senior Patrol Leader with Boy Scout Troop 325 in Lake Jackson.
+ Troop 553 out of West Columbia TX spent the weekend out at Camp K clearing brush and branches and taking care of their Camp.
+ Troop 561 out of Sweeny TX helped out with a VFW Flag Retirement and were put in the paper. They are also great at making bridges.
+ Pack 310 shows some Scout Spirit and community involvement by helping out with a Beach Clean up Day in Freeport TX.
Monthly meetings
Date/Time

District Committee Meeting

3rd Wednesday of the Month 11:30 am
(No meeting in July. November & December will be the 2nd Wednesday)


Wurst Haus - 102 This Way
Lake Jackson, Texas 77566
979-297-3003

District Commissioner Meeting

First Thursday of the Month, 6:30 p.m.
(No meeting in July)

Church of Jesus Christ
of Latter-Day Saints
502 Southern Oaks
Lake Jackson, TX 77566

Roundtable

First Thursday of the Month, 7 p.m.
(No meetin in July, January meeting happens on the second Thursday)

Church of Jesus Christ
of Latter-Day Saints
502 Southern Oaks
Lake Jackson, TX 77566

Order of theAarrow

First Thursday of the Month,
7 p.m.

Brazosport Chamber of Commerce
300 Abner Jackson Parkway
Lake Jackson, TX 77566