Popcorn
Boy Scouts & Trails End
For nearly 30 years, Trails-end has been in partnership with the Boy Scouts of America and their mission, along with the mission of the Bay Area Council, to help Scout packs, troops, and crews raise the money needed to fund their programs and activities throughout the year. The Bay Area Council has two consecutive sales in the fall: Show and Sell, which allows units to set up outside of a retail store for direct sales and delivery to the consumer and the Take Order sales, where Scouts go door to door in their neighborhoods to sell to the consumer with delivery taking place at a later date.
Why sell?
• Increase your unit and council income – 70% stays local.
• Pay for your entire Scouting program.
• Scouts learn valuable life lessons.
• There are loads of incentives like Top Seller prizes and College Scholarships.
• Sell online. It's easy and a great way to sell to friends and family.
Important dates
Council Popcorn Kickoff August 3, 2016
Show & Sell Orders due August 19, 2016
Show & Sell Orders distribution Sepetember 17, 2016
Take Orders due October 21, 2016
Take Orders distribution November 5, 2016
Monies due to Council December 1, 2016
Congratulations to our 2015 Top Sellers!
P445 Brady B. 9,279.00
P207 Dylan H. 8,002.36
P207 Hayden N. 4,002.82
P29 Peter K. 3,862.00
P414 Jacob R. 3,336.00
P696 Tristan M. 3,094.64
T9310 Matthew R. 3,092.00
P554 Aiden F. 3,066.00
P499 Andrew S. 3,061.00
T2322 Charlie N. 3,032.00
P696 Ryley F. 3,025.06
T9310 Hunter D. 3,012.50
T2322 Reid S. 3,002.00
P420 Kenneth M. 3,000.00
P442 Charlie G. 2,948.00
P609 Luke H. 2,783.46
T2322 Christian D. 2,779.00
P414 Alexander T. 2,761.00
T2322 Joesph P. 2,721.00
P487 Justin E. 2,663.83
P445 Chayton B. 2,613.00
P609 Kade G. 2,589.83
P207 Hayden H. 2,577.56
P207 Ethan I. 2,555.95
P446 Dominic U. 2,538.00
P207 Lucas W. 2,514.28
P696 Caiden G. 2,505.08
P609 Jackson W. 2,401.76
P445 Brandon B. 2,154.00
P207 Brody W. 2,026.28
T678 Daniel M. 2,002.00
P445 Carter N. 1,903.00
T345 Moises G. 1,842.00
P445 Sammy R. 1,744.00
P445 Jonathan M.1,725.00
P333 Samuel R. 1,711.00
P488 Blake R. 1,704.38
P468 Drake F. 1,700.08
T345 Jacob E. 1,700.00
P609 Ace M. 1,675.85
P696 Noah H. 1,638.76
P696 Andrew S. 1,626.83
P452 William L. 1,621.65
T9310 Ricardo M. 1,616.00
T9310 Aaron S. 1,615.00
P120 Donald C. 1,614.00
P603 Evan R. 1,609.96
T345 Nathan O. 1,596.00
T123 Collin S. 1,575.75
P628 Reid P. 1,566.00
T9310 Dominic R. 1,556.00
P628 Gavin T. 1,541.50
P445 Mason S. 1,532.00
P446 Scott C. 1,515.48
P240 Logan P. 1,510.00
P405 Devon J. 1,510.00
P446 Matthew C. 1,505.84
Bay Area Council Prizes 2015
Download the Prize Sheet HERE
District Kernel contacts
These folks are your first line of defense in your Unit popcorn program. If you have a question, just give them a call.
COUNCIL POPCORN PROJECT COORDINATOR: Dio Gonzalez at dionicio.gonzalez@scouting.org
COASTAL
District Kernel, TBD
Scouting Professional, Dio Gonzalez, dionicio.gonzalez@scouting.org
CRADLE OF TEXAS
District Kernel, Nancy Gray, 979-239-8687, rainbow4jc@comcast.net
Scouting Professional, Aaron Christopher, 409-750-3657, aaron.christopher@scouting.org
NORTHERN STAR
District Kernel, TBD
Scouting Professional, Lisa Stegman, 281-557-9586, lisa.stegman@scouting.org
THUNDERBIRD
District Kernel, TBD
Scouting Professional, Warren Reed, warren.reed@scouting.org
Distribution sites
SHOW & SELL (ALL DISTRICTS)
8-10 a.m., September 10, 2016, Place TBD
TAKE ORDER
Coastal & Cradle of Texas: 8-10 a.m., November 5, 2016, Place TBD
Northern Star & Thunderbird: 8-10 a.m., November 5, 2016, Place TBD
Unit Commitment Form
CLICK HERE for a paper form.
Earning Commission
The Scout Unit Commissioner Plan has some incentives built in. The basic commission will be 30%. Your Unit can then earn additional commissioner percentage points by doing the following:
Unit resources
HOW TO PLAN YOUR YEARLY SCOUTING PROGRAM - STEP 1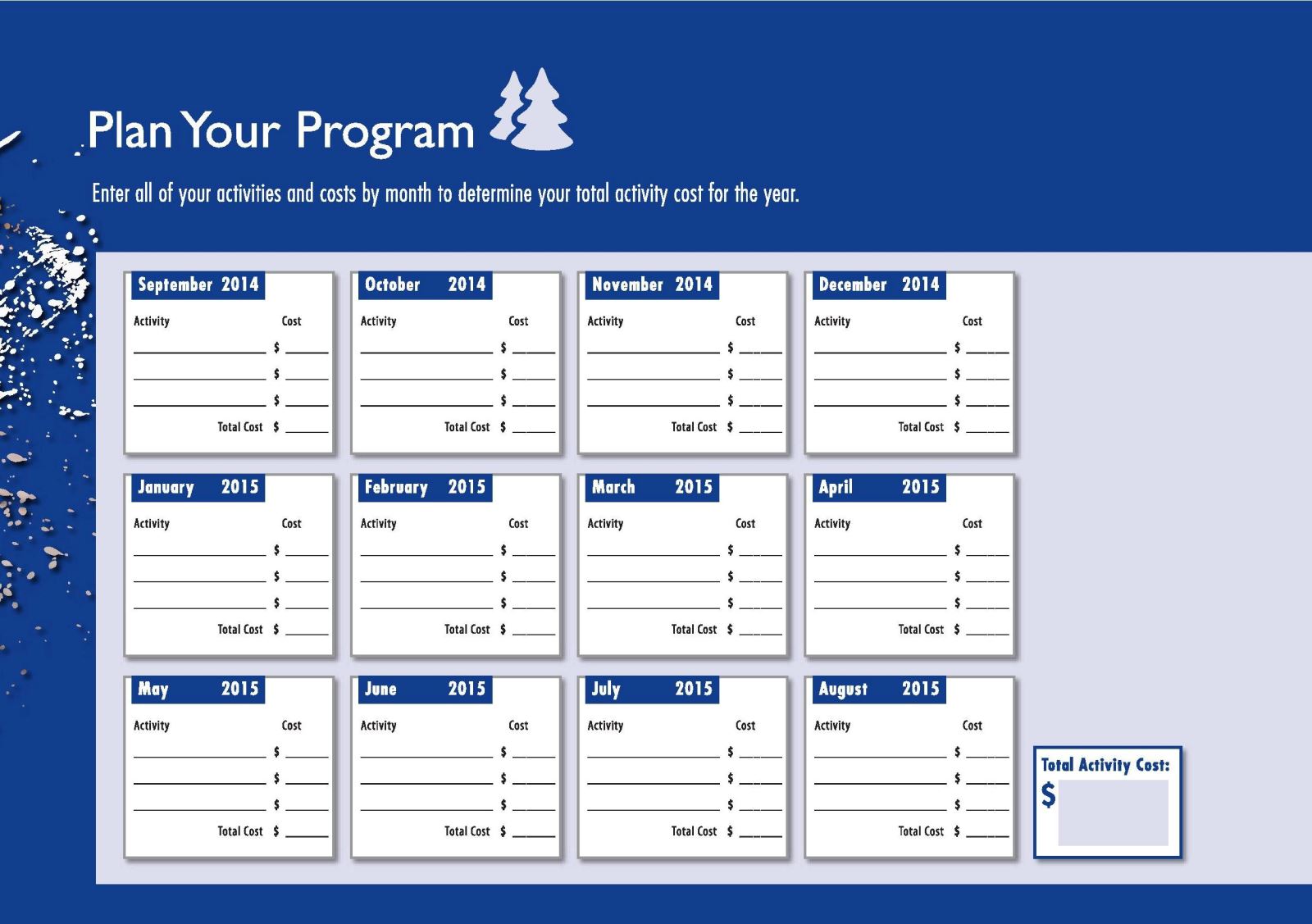 HOW TO PLAN YOUR YEARLY SCOUTING PROGRAM - STEP 2
HOW TO HOST A GREAT KICKOFF
2016 Leader Guide coming soon.
2016 Order form coming soon.
Top seller certificate here.
Scout resources
Find Business Cards here. (Just fill in business cards with your own info and print.)
Find Door Hangers here.
Find Goal Poster & Sales Calendar here.
Find Selling Tips here.
Find Show & Sell Banners here.
Find Support Scouting Posters here.
Find Table Taste Kit here.
Find Yard Signs here.
Online training
HOW TO SELL ONLINE
HOW TO MANAGE YOUR ONLINE SALES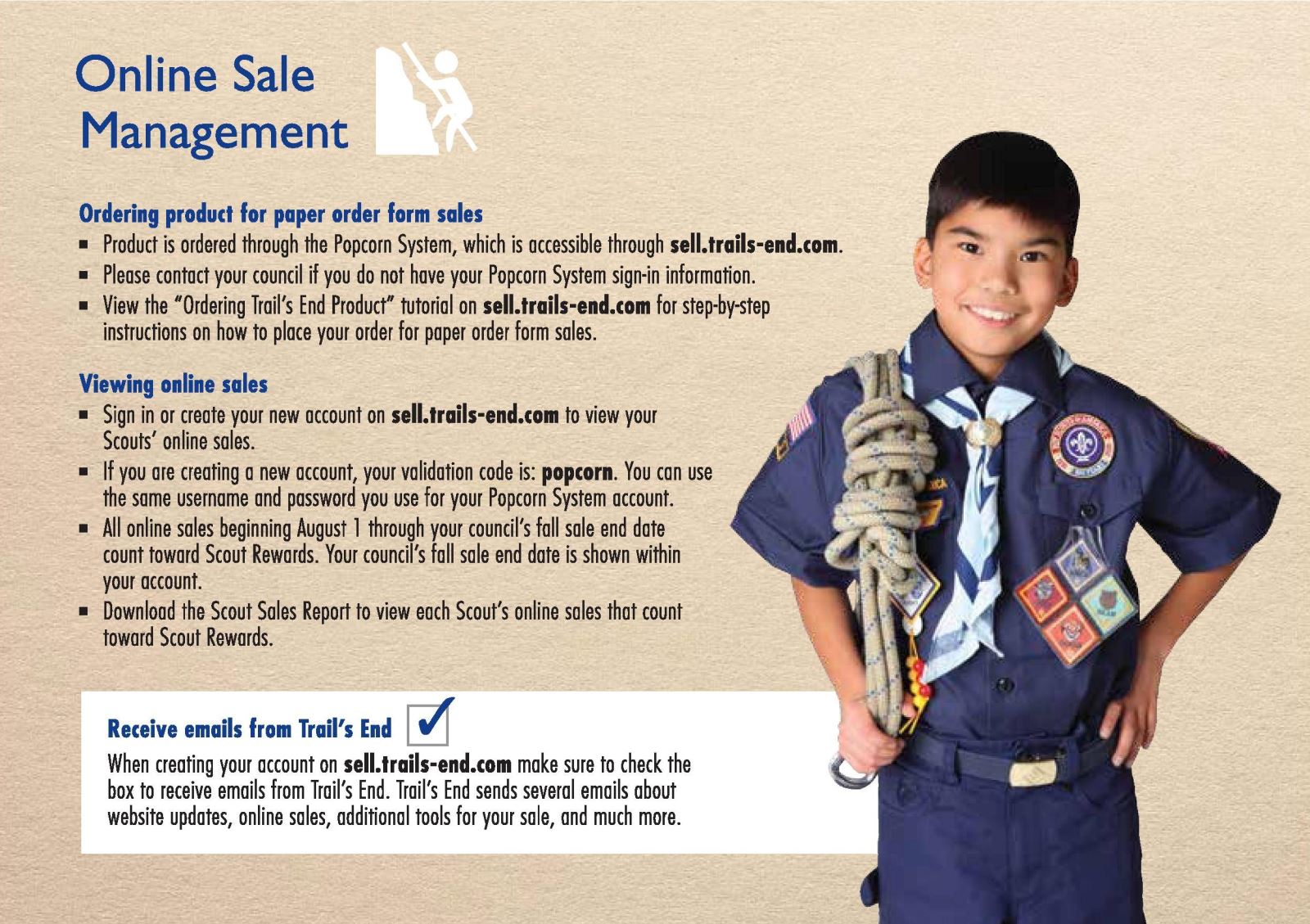 Find Online Selling Postcard here.
Click here for a Trails-End Webinar on using the popcorn system
Click here for instructions on setting up a Scout Account to sell online.
Click here for instructions on setting up a Leader Account to view online sales.
For Leader accounts: The activation code is popcorn (case sensitive). We are the Bay Area Council, then select your District and Unit.
Show & Sell
Find the 2016 Show and Sell ordering tool here. Just enter the quantity of cases needed and the ordering tool does the rest. Percentages of product are based on data collected in the field. If a Unit orders close to what this tool is advising, their overage should be minimal.
Find the Show and Sell retail letter here.
For the Troops
Trails-end sends popcorn treats to the US Military via Support our Troops on behalf of the Boy Scouts of America.See pictures and read testimonials here.
Military receipt here.
Scholarship Program
Scouts who sell at least $2,500 (online, mobile, face-to-face or combination) in any calendar year can receive 6% of their total sales invested in their own college scholarship account. Find more info here.
Training videos
HOW TO ACHIEVE YOUR GOALS