NOAC 2018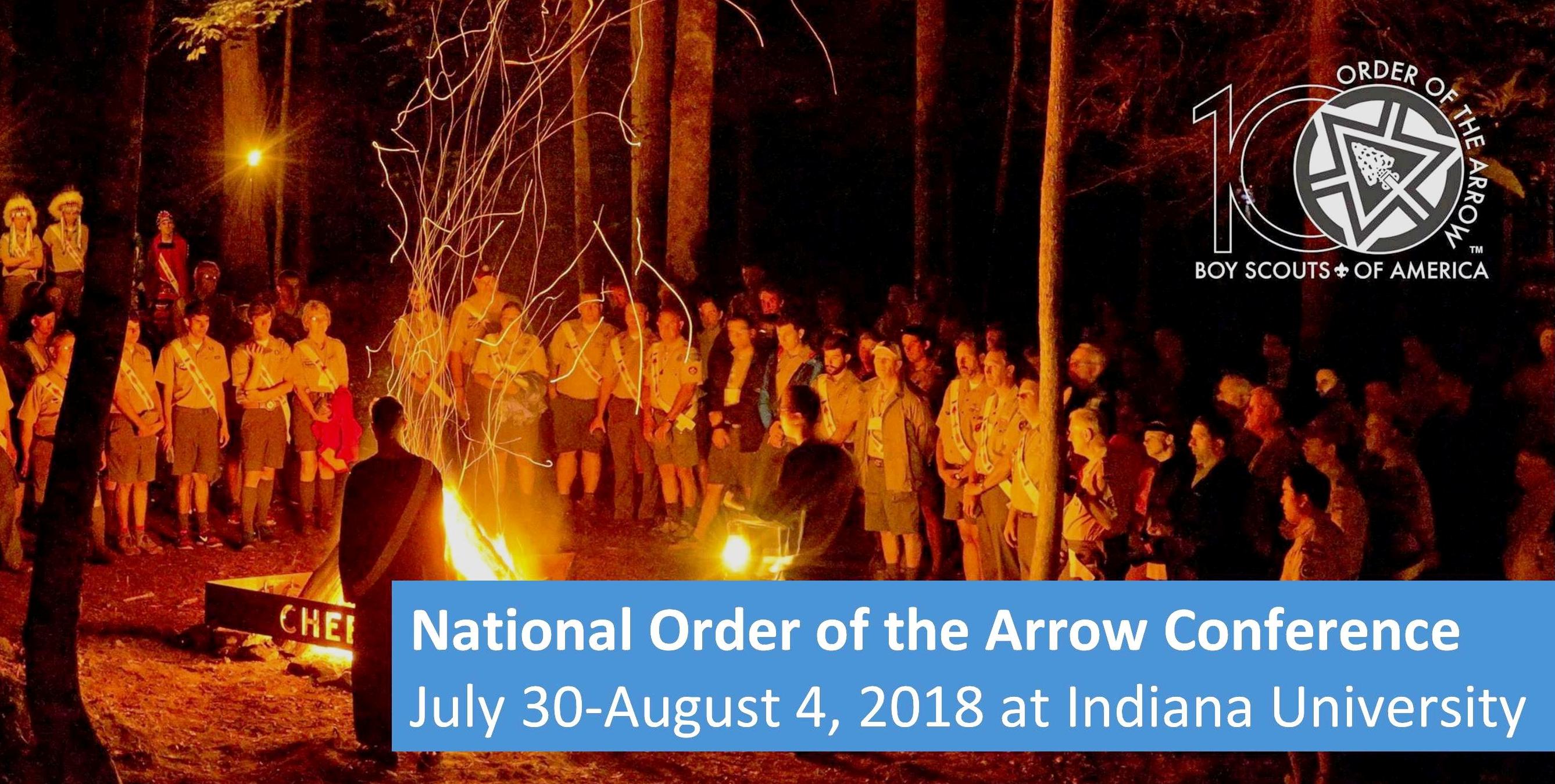 NOAC is the largest gathering of Arrowmen. During your time at NOAC you will have the chance to meet over 8,000 other Arrowmen from across the Nation. You will be able to play dodge ball, capture the flag and numerous other games. PLUS – if you don't like to cook, this is the trip for you! All the meals are prepared for you in the college cafeteria. You will be staying in the dorm rooms on campus.
There are ceremony and dance team competitions. There is an awesome OA Trading Post and NOAC hosts the second biggest patch trading event (first being the National Jamboree). There are exhibitors with the latest in camping and outdoor equipment and High Adventure trip planning that you can go on. Interested in the history of OA? See it in the Museum of OA and Scouting History.
NOAC not only has lots of fun opportunities but it's educational too! You will attend classes to improve your leadership skills that you can bring back to your unit and Lodge or learn what it's like to be a Lodge Chief. Other classes include OATR training, helping the Boys in Blue, Webelos to Boy Scout crossover, conducting a Vigil Callout ceremony and many more.
The cost to attend the 2018 NOAC is $950. A $100 deposit is required to hold your place within the Lodge Contingent. Scouts and adults who are registered members of the BSA and dues paying members of the OA may attend this National event.
DATE: July 30 - August 4, 2018
PLACE: Indiana University in Bloomington, IN.
CONTACT: OA Lodge Adiser Ricky Torres at thunderbird.bac@sbcglobal.net
- NOAC Conference fee $525 (Includes lodging and meals while at Indiana University.)
- Air transportation (round trip) $360 (This is estimated from booking and payment in January.)
- Shuttle service from airport to university (round trip) $40
- Miscellaneous costs $25
(If any of these costs change the final payment will be adjusted.)
December 18, 2017 - $100 non-refundable deposit due to Bay Area Council, 3020 53rd Street Galveston, TX 77551
January 15, 2018 - $360 non-refundable flight payment (refundable tickets added almost $150 to the cost)
February 26, 2018 - $225 refundable payment (if cancellation is before May 30)