Cub Day/Twilight Camps 2020
Theme coming soon!
We've got arts & crafts, competitions, games, field sports, shooting sports, & much more!
Download the flyer HERE. (Coming soon)
Who comes to camp
Cub Camp is open to all registered Cub Scouts who are Tigers, Wolves, Bears, and Webelos I and II.
Registration
Scouts may attend ANY of the following Cub Camps. Scouts register individually for camp, but we encourage dens and packs to coordinate plans to attend camp together. Gates open 30 minutes before the start of camp.
COST (Includes t-shirt, patch & crafts.):
- CUB SCOUTS: TBD
- PARENTS OF TIGER CUBS - complimentary & must attend
- TOT LOT 6 AND UNDER - complimentary & staff's children only
- STAFF - complimentary
TO REGISTER: Please have unit number, t-shirt size, emergency contact info, and food allergies or physical disabilities ready.
CAMPERSHIPS: The Bay Area Council believes that no Scout should be denied a camp experience due to cost, and works to meet the need of all Scouts who want to go to camp, up to 50% of the total cost. Families who need assistance are encouraged to apply for a campership. For more information, contact your District Executive.
PLEASE BRING:
- BSA HEALTH FORM (Parts A&B). If you are in a Unit, give your form to your Unit Coordinator. If you are an individual, bring it to the first day of camp.
- Current YPT - This is required for all adults, parents or staff attending Cub Camp.
- Water bottle
REGISTRATION ENDS: 14 working days before the start of Camp. No exceptions.
National Camp Accreditation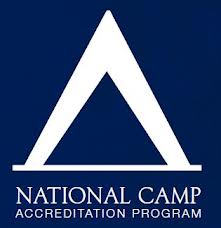 Currently the Bay Area Council's Cub Camps have completed yearly assessment visitations through the Boy Scouts of America's National Camp Accreditation Program (NCAP) resulting in the achievement of accreditation each year of the new program's existence. In 2015, the Bay Area Council went through full implementation of the NCAP program and was granted a five year authorization to operate.