Join Scouting
The Bay Area Council would like to welcome new families to the educational and exciting adventure of Scouting where children and teens spend their time outdoors, camping, swimming, hiking, learning life-saving skills, citizenship, community, conservation and much, much more! Watch for fliers that your child brings home from school with info on who, what, when and how to join.
Cub Scouts (Packs): Kindergarten-5th grade or 5-10 years old, girls & boys only (beginning August 1, 2018)
Boy Scouts (Troops): 5th-12th grade or 11 to 18 years old, boys only
Sea Scouts (Ships): 8th grade and up or 14-21 years old, co-ed
Venture (Crews): 8th grade and up or 14-21 years old, co-ed
Exploring (Posts): 8th grade and up or 14-21 years old, co-ed
Find Scout groups near you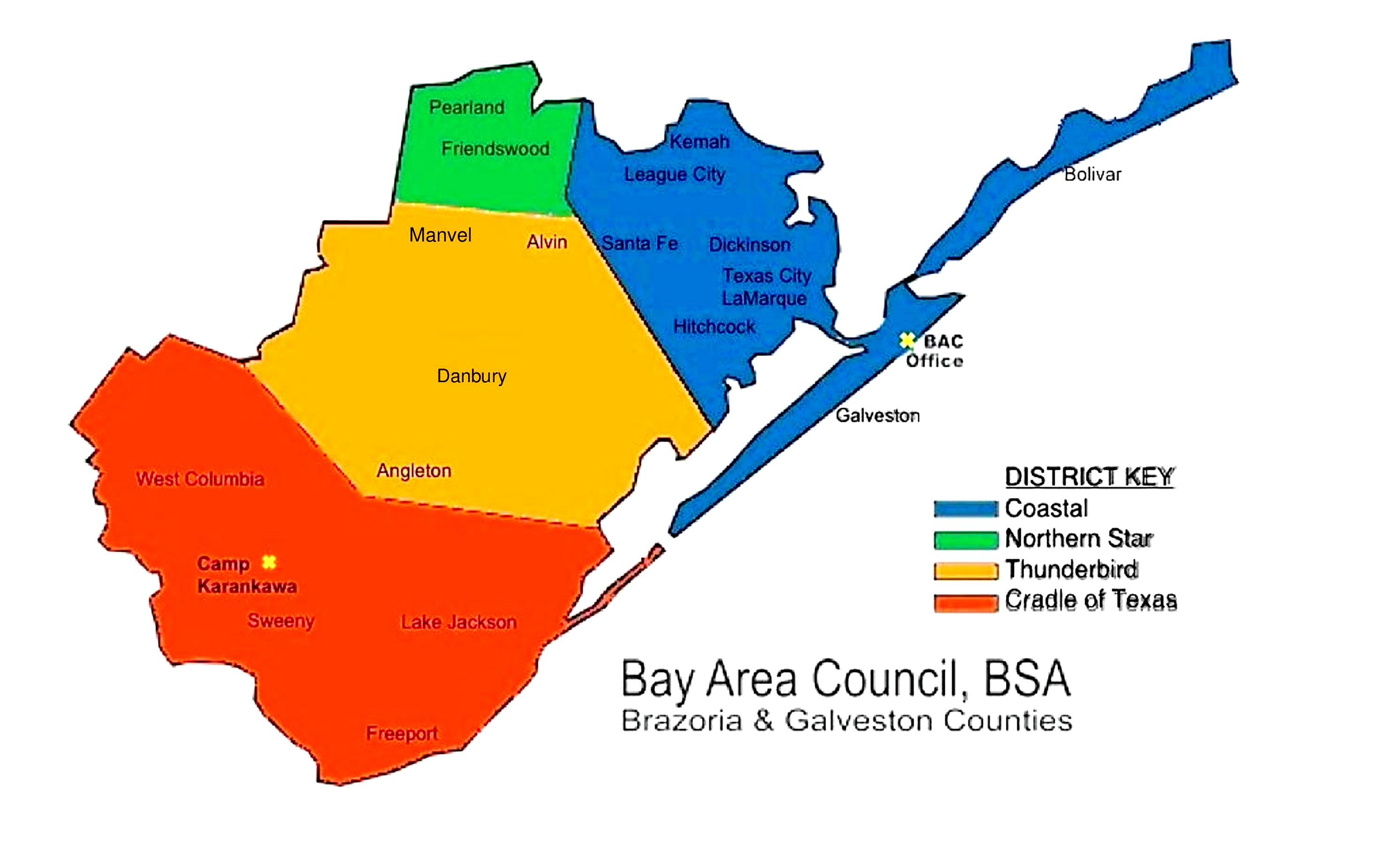 Visit BeAScout.org. Choose your programs (Cub Scouts or Boy Scouts), enter your zip code, and find a unit (group). Meetings are always open to the public.
OR
Find your area or district on the map and download the contact information.
Cost
It cost just $33 a year and is pro-rated. (See chart below.) Some groups (units) may charge there own registration fee for a group t-shirt, etc. Once you purchase a uniform and book, that's it. (Approx. $120, uniforms can be worn for several years.)
Invite a friend
Download the Cub Scout invite HERE
Download the Boy Scout invite HERE
Links
Youth Application ENGLISH & SPANISH
Adult Application ENGLISH SPANISH
Cub Scout Parent Guide HERE
Frequently Asked Questions
What do I need to bring in order to register?
You will only need to bring the National Registration Fee. Cash or Checks are accepted.
There is also an optional Boys Life magazine if you wish to purchase rated at $1.00 a month. You do not need to bring any other forms nor a birth certificate. After you join a scouting program you will be given a BSA health form from your unit.
Who can fill out the application at registration?
A parent, grandparent or guardian 18 years or older will need to sign the application form unless the youth is registering into a Venture, Explorer, or Sea Scout program and they are between the ages of 18 and 21. You can also send a signed form and fee with a neighbor or friend for submission if you are unavailable to attend.
How much will it cost to register?
There are actually 2 parts to this answer:
Part 1: The National BSA Registration Fee:
The National Registration fee is collected for one year from February to January and is $33 a year (prorated). The Charter Scout year does not follow a School Calendar Year. Dependent on the month you join, it will be prorated and collected at the time of registration. The full $33 plus $1.00 insurance fee will be collected in December for the next calendar year by your unit. This is referred to as the Re-charter and must be paid for your Scout to continue in the program annually. This is the only fee in order to "Join Scouting" at time of registration.
Month

Youth/Adult
Registration fees

Boy's Life
subscription

Boy's Life
first issue

January

$2.75

N/A

N/A

February

$33.00

$12.00

April

March

$30.25

$11.00

May

April

$27.50

$10.00

June

May

$24.75

$9.00

July

June

$22.00

$8.00

August

July

$19.25

$7.00

September

August

$16.50

$6.00

October

September

$13.75

$5.00

November

October

$11.00

$4.00

December

November

$8.25

$3.00

January
Part 2: The Individual Unit Program/Activity Fees throughout the Scout year:
Every Unit has a program budget dependent on specifics of what the Unit offers to the Scout. Activities are based on pay as you go/selecting what you want to do. Please contact the individual unit directly for this detail information. Do not forget to ask your Unit how your Scout can "Earn His Way" to cover the costs of activities. The Boy Scouts of America sells Popcorn as a major fundraiser in the Fall to fulfill unit budget costs with a few hours of effort from everyone. Unit Popcorn sales translate to substantially lower or eliminating costs for a program year that would include award recognition's and unit general activities!
Can my child join scouting at any age even if they were not in the program at the beginning?
Yes, because there is no absolute beginning. Every program is set to start when the youth registers. Youth can register from the 1st Grade up to 21 years old.
Do all the Programs require a Uniform?
Uniforms are a very important part of Scouting as it gives the youth the sense of belonging and represents pride in their accomplishments through rank advancements. All of the Scouting Programs have specific basic uniform requirement and the Scout Shop will be able to assist you. The Venture and Exploring program are the only ones that can design their own uniforms. Many Venture Crews just have a standardized T-shirt and Explorers will be dependent on the vocational study.
When do we have to get Uniform?
You do not have to get a uniform at the time of registration and it can be purchased at a later date. The most important thing to get immediately is your Scout's Handbook so that he can start his achievements. Handbooks will range in cost of $15 - $20 dependent on the Scouting program.
Where do we have to get the Uniform and how much does it cost?
Uniforms & Handbooks can be purchased at any time of year at the Scout Shop in the Council Service Center at 3020 53rd Street, Galveston, Texas. Call or check the website for store hours: 409-744-5206 - or www.bacbsa.org
Costs vary dependent on the extent of your uniform purchase and style of uniform. The uniform of a basic shirt and required patches will start at approximately $60-$100 and will increase on extra items added to your uniform. Keep in mind that the Uniform can be worn for 2-3 years, purchase a size up if you want to extend the life of the uniform purchase. Scouting is for everyone, and a cost of a uniform should not deter you from joining.
Do I have to join with the unit associated with the school?
No, the Scouting Units are open registration. However, some families choose to pick a unit where many youth are from the same school. This should not be the only factor as friends will be made everywhere. It is advised that you select a Unit that best suits your family. It has been proven that you will enjoy Scouting more and stay in the program longer if it fits your schedule and needs. Look at location, meeting times, size of the unit and program. Plus there is no need to worry, if you join a unit that does not fit your needs or your personal family schedule changes, just call the District Executive to help you simply transfer to another unit. Remember, you as the parent are also joining in a sense; you will be making new friends as well. It is important that the whole family is comfortable with the Unit and it is convenient to your schedule.
For example, a Tuesday night meeting works best instead of a Monday or Thursday. Or you want a unit that has activities all the time compared to a more casual program. Then there is also the choice of lots of boys and adults or on the other hand you might want a smaller group setting where there is a closer relationship.
Do we have to do all the activities and purchase camping equipment right away?
No, you are not required to attend every activity; you have a choice of what you would like to do. And no, you do not have to go purchase camping equipment right away, unless you would like to. It is important to participate in activities dependent on your program for specific rank advancement and of course the outdoors is a big part of Scouting. The majority of the Boy Scout Troops have standardized camping gear for the boys and Cub Scout Packs will do family camping where they can help assist with gear or can lead you in the right direction on a purchase.
My child has other extracurricular activities; can we still participate without falling behind?
Yes, Scouting is a compliment to other activities as it increases awareness in many levels such as sportsmanship and leadership skills. Because Scouting is a program that goes all year long it can fit with a youth's other interests. Units meet on various days to accommodate family schedule restrictions. We sometimes see youth less frequently during a sport season, then becoming more active during the rest of the year. Since the Scouting program is designed for enrollment at any time a youth will not fall behind. Nor will they be penalized for missing a meeting, unlike sports where if the youth miss a practice they cannot play in the game that week.
We missed the registration at the local location. Can I still sign up my youth into Scouting?
Yes, this can be done two ways: You can go to the Bay Area Council office and register for a unit directly there. With this option you will also be able to purchase your uniform and hand book at the same time if you wish. Or you can fill out the application and bring it with you to a first meeting of your choice. Please contact the unit to confirm the meeting time and location.